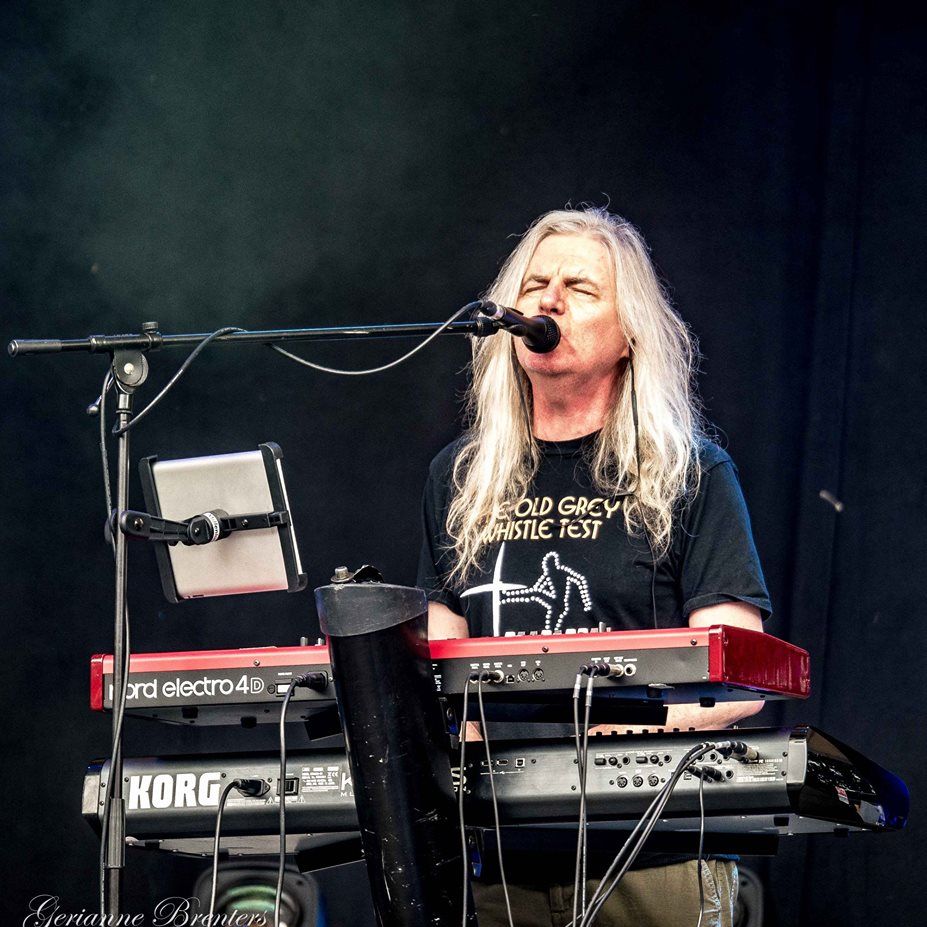 John Young
John Young is a British progressive rock keyboardist and singer from Liverpool. John spent his early years with the Liverpool Cathedral Choir where he was classically trained on keyboard and voice.
Until the mid-1980s he played in semi-pro jazz rock bands. His first major break came in 1985 when he successfully auditioned to be part of Uli Jon Roth's band (ex-Scorpions). After a world tour, John spent his time doing studio and session work with artists as diverse as Steeleye Span and Bon Jovi. John also recorded an album with Lucio Battisti in 1990. La Sposa Occidentale reached number three in the Italian Chart and was the 39th best selling album of the year in Italy.
John went on to play with the MTV band in London, during which time he met John Wetton who invited him to join Asia for two European tours after which he joined Paul Rodgers and Kenney Jones in a short-lived band called The Law. They played one show at The National Bowl in Milton Keynes with Bryan Adams and ZZ Top. John joined Bonnie Tyler in the mid-1990s and has since worked and played with her all over the world. In 2001, he joined the Scorpions for a world tour to promote their Acoustica album. In the same year he co-wrote the Fish album Fellini Days with John Wesley and appeared on the resulting live album Fellini Nights. John has also worked as part of the regenerated Greenslade, appearing on the albums Large Afternoon and Live 2001. 
John has worked with Jon Anderson of Yes, the first product of that union saw Jon touring Europe and playing the song Sooner (Than Later), a track co-written with John. He worked as the touring keyboard player with The Strawbs on their Canadian and UK tours in November/December 2010 alongside Dave Cousins, Dave Lambert, Chas Cronk and Tony Fernandez. John has released two solo albums Life Underground and Significance both of which were out of print, although 2018 saw the re-release of Significance. The album The John Young Band - Live At The CRS saw John perform with his band, a forerunner of Lifesigns, playing music from his solo albums. 
Just to ensure that the pressure is never off, John has completed many albums of instrumental music, the latest being Financial Meltdown, a semi classical album. Other works include Political Agenda, Scientific Breakthrough, Dot.Com Explosion, Ethereal Energy and Election Fever. Music from these albums varies from semi-classical to jazz and ambient to world, and is often heard on TV programmes such as CNN's coverage of the war in Iraq, the BBC programme Coast, The Jay Leno Show and the Obama election campaign.